Recently I have been getting inspired by futuristic Cyber Goth fashion, but not your regular take on it - I'm not personally into the neon colours, Cyberlox and glow sticks that are brought to mind when you normally think of Cyber Goth fashion, and prefer an all-black (or almost all black), sleek look that I feel is more of an authentic interpretation of futuristic fashion. I had the chance to get a few things from Cyberdog and other places, which prompted this little fashion muse, so I thought I'd share my items and interpretation of Cyber fashion.

One Cyber fashion inspiration from media that is hugely influential to my take on this fashion is Rachael from Blade Runner.


I think she is so so cute and love the fashions she wears in Blade Runner. Just look at that fur coat!
Although the credibility of the Resident Evil films are dubious at best (except the first, which is pretty good), I'm a huge Milla Jovovich fan and her outfit in Resident Evil: Retribution is something I'd 100% wear the fuck out of, even though I never usually wear trousers!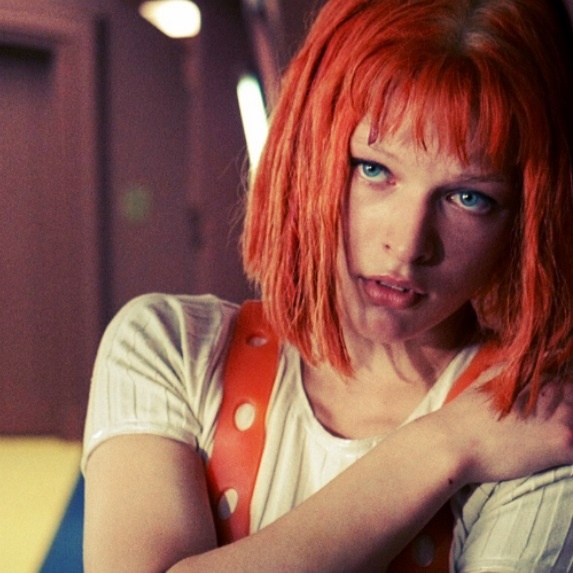 This may require a little more imagination, but Leeloo Dallas from Fifth Element is another inspiration of mine; if Leeloo from Fifth Element only wore black, that'd be my kind of Cyber fashion! I don't think I'd wear her white bandage outfit but I love the simplistic style that is still very futuristic.


Even the air hostess' outfits in Fifth Element can be drawn from - they already look like pieces that could be sold by Cyberdog right now.
Another inspiration is Trinity from The Matrix; although her take is a little more masculine than my personal taste (again with trousers), she still has a very chic look I can take inspiration from.
One real life inspiration you can look to for realistic futuristic style is
Grace Neutral
, whose look is inspired by aliens and other worlds. She has modified her body and look to reflect how she feels inside, including tattooing her eyes, undergoing ear pointing, tongue forking and scarification to name but a few procedures.
Out of the real life images and looks you get when you search for Cyber Goth fashion, these are some that I take the most inspiration from.
Here are the pieces I picked up from Cyberdog to put together my sleek black Cyber wardrobe.
Fang Skirt (discontinued)
Mistress Shrug
XXX Torture Dress
XXX Safety Bra
, mostly to layer under other items
Circuitry Dress (discontinued)
Circuitry Bustier (discontinued)
Bat Peek Jacket (discontinued, not sure if this is the proper name for it as it's hard to find any info)
I also got a dress from Disturbia that has been on my wishlist for a while, so it came about at a good time.
Barbarella Dress
Here are a few items still on my wishlist that would fit in with my Cyber wardrobe now.
Lip Service Erotomechanics Halter Dress
Lip Service Hyper Intelligence High Neck Dress
Cyberdog Supersonic Dress
Cyberdog Strapper Long Sleeve Shirt - the Fang Skirt in red would go amazingly with this top as well
Cyberdog Andromeda Mesh Dress

And here are some pieces I already owned in my wardrobe that go with the style as well. An important tip when expanding your wardrobe without going overboard is shop your stash, use what you already have!
Ghost of Harlem top purchased in Japan
Glavil top purchased in Japan
Pleather pleated skirt found in Mode Off Ueno
Pennangalan Transmuter Boots
I could do with some more accessories to fit the style. I like simplistic jewellery when it comes to Cyber Goth, with lots of silver or gunmetal black metal.
My
Black O Ring Choker
from my store is simple but so versatile. I end up wearing it a lot with Cyber outfits.
I love these O ring bangles in black and silver (
available here
) - to me they look futuristic but I am also aware some people wear them or may think they're for BDSM purposes. It's a hard balance for me, wearing O ring jewellery without people thinking I'm wearing BDSM items. Can you believe that I first made my
Heart Ring
and O Ring Chokers purely for fashion purposes? They were (and still are) very popular, and I was happy they were successful, but a friend turned to me and said "...Yeah...you do realise they appeal to the BDSM market, right? That's why they're popular" and I was like "...Oh. Hooray?"
They also do a ring version of the bangles above (
available at the same link
). I would love a choker version as well, but again, that would be very close to those infinity slave collars. The other reason I haven't bought these is that they're made of mixed metal/zinc alloy; I'm allergic to cheap metals like nickel, copper and zinc, and as I've gotten older (the ripe old age of 24 as of writing this haha), I much prefer paying a slightly higher price for better quality items (not just jewellery) that are made of higher quality materials that will last longer. I know that if I wear these items, they're going to give me a rash, and after a few wears, the plating will wear off, exposing the copper colour underneath.
I would love to make some stainless steel versions, since I can't find anyone else who does them, but at the moment finding jewellery manufacturers with small MOQ is quite hard. Hey, hit me up if you have any sources, or happen to know for sure 500 of these bangles, rings and chokers would sell haha!
The closest I've found to stainless steel versions of the above is this Etsy store,
Terginum
, based in Germany, but again, they're
very
BDSM orientated. Their items are reasonably priced and look high quality though so check them out! I may even contact them to see if they'd do a custom order of the aforementioned items.

Here are a few looks I put together encapsulating my take on Cyber Goth fashion.
This one gives me such Blade Runner vibes, I think it's because of the slight graininess of the picture.
Well, there's my take on Cyber Goth fashion. This kind of turned into an essay of all black, simplistic futuristic fashion, didn't it? I find putting together these kind of essay/moodboard mash-ups really focus my style so I enjoy writing them. It arranges what I already have in my wardrobe that works with the fashion, and what staples are next on my shopping list. What do you think to this take on Cyber Goth? What's your personal version of it?