Sometimes I get the urge to buy beauty stuff when I either have stuff already on the way (instant gratification, am I right?), don't need anything or know that I have plenty of stuff I haven't used yet. Sometimes the feeling gets subsided by writing a review because I'm doing research on the products similar to when I want to buy a new product, and I'm generally talking about beauty. Today is one of those days. I currently have an MUA and Vichy order arriving at some point but I just got given money for Easter so I'm like "Ooh, money I wasn't planning that I could spend on make-up... *slaps own hand* NO! Save it for later!"
Therefore, I present to you this review of Clinique's All About Eyes Eye Cream to keep temptation at bay. *starts secretly checking out my Pinterest beauty wishlist inbetween typing*
Brand:
Clinique
Name:
All About Eyes Eye Cream
Price:
£26.50 for 15ml
Clinique's All About Eyes eye cream is a lightweight gel-cream suitable for all skin types, although they do make a 'All About Eyes Rich' version for drier skin. This eye cream promises to reduce puffiness, cool, soothe and reduce dark circles. I received this product in a Bonus Time gift and was most looking forward to the dark circle reducing benefits.
Because I got mine in a Bonus Time gift, I didn't get the full 15ml and the packaging was slightly different. Here's the deluxe sample packaging I received:
And here's the full sized packaging you'd get if you bought the product: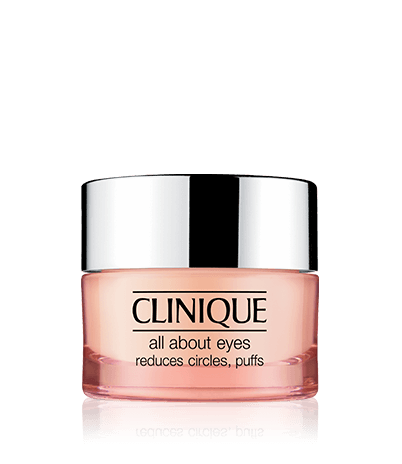 The deluxe sample packaging has a green plastic lid, whilst the full sized packaging has a metallic silver lid that kind of feels like it's metal plated. The jar is plastic and has a quality weight to it. The packaging is okay, it's very no-frills and mature looking. I am not a fan of the green lid as I think it makes the brand look stuck in the 80s/90s but I understand it's probably cheaper to make for the deluxe sample packaging.
The product is described as a light gel-cream hybrid and I can definitely agree with this. It's oil free and has a slight fleshy pink tinge to it. It absorbs easily and smoothly with no greasy residue or finish and has no scent as all Clinique products are fragrance free. You only need a small amount for each under-eye area.
Like I mentioned above, my main concern was with dark circles so I was looking forward to trying this product. I'd heard quite a few good things with it and it seems like a popular seller but I was pretty disappointed to be honest. I used the whole deluxe sample over the course of a couple of weeks and saw no improvement in my dark circles. It hydrated my under-eye area, and I have no puffiness to calm so it was a very sub-par product to me. Anything can hydrate your skin or lock in moisture so I could've applied Vaseline under there for all this eye cream did for me.
Clinique All About Eyes eye cream did nothing for my dark circles, but kept my under-eye area hydrated. I have no puffiness or wrinkles to comment on, so for me this product is not worth the money. I give it 2 out of 5 stars.