On day 2 of my trip to Japan, I decided to go to Shibuya and Daikanyama for the day. I wanted to window shop in Shibuya 109 before the New Year sales and fukubukuro, and visit Kyu Asakura House in Daikanyama, a historic house built in the Taisho era.
Before I left for Japan, I outlined days where I had something specific to do or visit, like the fukubukuro sales or travel to Kyoto, then I had daily itineraries I could choose from each day with nothing set in stone. I knew a lot of things were going to be closed over the New Year holidays - independent stores, museums and tourist attractions, etc. so I tried not to visit them from 1st-3rd January. I didn't think much would be closed on 30th-31st December though, but thought I'd Google whether Kyu Asakura House was open that day anyway, and it said it was.
After breakfast I walked to Shibuya instead of getting the Metro. It's about a 20 minute walk from Harajuku and I wanted to experience more by walking places rather than getting public transport!
As I walked down the hill into Shibuya, I saw Shibuya 109 appear in the distance and it made me smile! It was something I'd seen in photos lots of time, and here I was right in front of it! Even better, they were doing a collaboration with one of my Gyaru idols, Namie Amuro so they had her face everywhere and were playing her music in the stores!
Gyaru meccaaaa~
I intended to window shop in Shibuya 109 before the New Year sales started, but I really wanted to buy a new bag and purse as soon as possible because I've been using a cheap £5 Taobao bag for over a year. It has constantly been falling apart, the straps have been breaking, the zips broke, etc and I kept holding off buying a new bag because I wanted to buy one in Japan! So I intended to window shop in 109 but if I saw a bag and purse I liked...y'know, anything could happen. I had a look in a few stores in 109 but nothing really grabbed me, then I saw a gorgeous bag and purse in MA*RS and had to buy them!
I felt like I didn't get great service at MA*RS...many stores asked me if I needed help, or gave me information on items I was browsing straight away but the MA*RS staff kind of ignored me at first, and I had to ask to see the bag as it was right on the top shelf. One of the shop girls handed it to me and then walked away, which I guess was kind of a good thing in that I didn't feel pressured to buy it even if I didn't like it upon closer inspection? *trying to find the positives in everything haha*
MA*RS offer tax-free purchases for tourists, so I was able to get the bag and purse tax free! It was my first tax free purchase. Throughout the course of my holiday, I found that shop staff didn't ask me if I wanted the tax-free option, so the MA*RS shop staff put through the purchase with tax included first. I then noticed the tax-free sign on the counter,

but forgot the word in Japanese (

免税/めんぜい

/

menzei = tax exemption/duty free)

so we had a fun bit of charades to get the shop staff to come around the counter and see the sign haha XD For tax free purchases, the staff ask to see your passport and fill out a form. They then print out a receipt and staple it into your passport along with a copy of the form. The idea is that when you go home, customs takes out all the tax-free receipts and asks to see the items to make sure they're leaving the country (otherwise you'll have to pay tax on them) but they didn't ask to see any items when I went home, and I heard that from a few friends too. My luggage had already been checked before I went through customs so I'm not sure how I could've shown them the items anyway, so maybe that's why they don't ask?
I saw many lovely stores in Shibuya 109 but to be honest, some of the brands I have loved since I discovered Gyaru have changed so much, I almost didn't recognise the brands and walked right past them! I almost didn't recognise MA*RS because so many of their items are white and pink now, and the patterns are far more subdued, not the iconic black and pink look I love. Many items from Glad News, Glavil and Ghost of Harlem have changed too, I only liked a couple of pieces from each brand. At least I saved money for other items and I'll try to find older pieces on Japanese auction sites at some point!
This post by Dolly has really great photos of Shibuya 109 taken in 2013!
Other than my MA*RS bag and purse, I bought this shirt in Ghost of Harlem in Shibuya 109!
After I went to Shibuya 109, I decided to grab some lunch before heading on to Daikanyama, which is about a 10-15 minute walk from Shibuya.
This was a super fancy mansion I passed in Daikanyama, and I actually got laughed at by an elderly Japanese man for taking these photos! In fact, he even walked past me, then stopped to look back at me with a bemused expression afterwards! I'm sorry, is this not a photo worthy building?! I later asked Hiromi about it and she said 'He's just crazy!' and that there was no reason for it. It was the first and last time I got laughed at taking photos so please don't be disheartened!
Pretty building in Daikanyama, it kind of has a European feel to it!
When I got to Kyu Asakura House, it was closed! The sign said it was closed from 29th-4th for New Year. I wouldn't have been bothered much if Google hadn't said it was open! So because of that, I was pretty annoyed. I decided to have a walk around Daikanyama and see the rest of the neighbourhood though.
This was Sarugakucho, a shopping complex. However, all the stores were closed when I visited on the 31st, for New Year. I did see two girls walk down the stairs on the right but they might have been checking if they were open too. It was kind of serene because no one was there. After taking a look at some of the stores, I concluded that I didn't think there'd be much there for my personal style so I didn't revisit the next time I went to Daikanyama.
A lot was closed in Daikanyama so I didn't actually do much there that day. I intended to revisit for Kyu Asakura House and general browsing after the New Year holidays though! I decided to head back to Harajuku.
To go from Daikanyama to Harajuku via metro, you have to change at Shibuya train station so I used it as an excuse to look around a little, and noticed the Tokyu Plaza connected to Shibuya station.
It was my first taste of a Japanese department store so I wanted to check it out. As soon as I walked through the door, I noticed a display of Anna Sui nail polishes so I was like '...Oh fuckkkk, this is dangerous for my wallet!' haha!
I picked up the NARS All Day Luminous Weightless Foundation that I had my eye on for a while. I received brilliant service and they threw in some free samples of face cream and eyeshadow primer as well.
I soon found the Anna Sui counter after NARS. I've seen the star shaped lipsticks online and the one in shade 371 Deep Pink x Maroon Brown was my favourite. Again, excellent service at Anna Sui, the counter staff tried the lipstick on me and said I looked like a doll (oh flattery) and chatted to me. She let me put the topcoat on top of the lipgloss to try it and gave me tons of samples when I purchased including the Hydration Charger, Conditioning Lotion and Rose Hair Oil.
After Shibuya I went back to Harajuku and did some more shopping! The beauty of staying in Harajuku was that if I wanted to do last minute shopping at 7.30pm or 8pm then I could, because I always had to go back to Harajuku train station to go home!
I went to Matsumoto Kiyoshi (shortened to Matsukiyo), which is a popular chain of drugstores, and spent ages looking at all the lovely skincare and make-up! I intended to do the majority of my beauty shopping here since they offered many well-known brands like Hadalabo, Canmake, Heroine Make, Shiseido and even Korean brands like Missha. Many branches of Matsukiyo, including this one, are tax-free so I tried to buy everything I needed/wanted all in one go.
Matsumoto Kiyoshi Harajuku (source)
Matsukiyo offered cosmetic fukubukuro (lucky packs) for

¥

2160 (with the contents being worth

¥

5000), which at the time was like £11. I am quite picky in my tastes so I hadn't intended to buy many lucky packs; however I noticed on the packaging of this pack, it had my beloved Heroine Make Volume and Curl Mascara in it! On eBay I can pay around £10 for the mascara alone so I quickly snapped up the pack! It is not eligible for tax exemption because it is discounted already but who cares?!
Here are the contents of the Matsukiyo lucky pack!
Heroine Make Volume & Curl Mascara in black - I didn't actually see this much around Japan, so I really hope they aren't discontinuing it, and that's the reason they're being sold in lucky packs! ;w;
Kose Cosmeport Je L'aime Amino Super Repair Deep Treatment
Travel sized Sana emulsion
Travel sized moisture toner
Sugao Air Fit CC Cream SPF23 PA+++
An EOS style lip balm that was strawberry lemonade flavoured/scented.
Hada Labo face mask
You also got a Lululun Face Masks and Facial Mask Cream set - I forgot to photograph the cream, sorry! This is the cream below!
The pack of face masks contains 7 masks inside a resealable pouch! That's the first time I've seen packaging like that and is really convenient! I think the masks are supposed to be good for daily use but I'll use them less frequently then that haha - afterwards you then apply this cream to seal in the moisture! Lululun was a very popular cosmetics brand I saw all over Japan; their eyelash packaging is very memorable and eye-catching.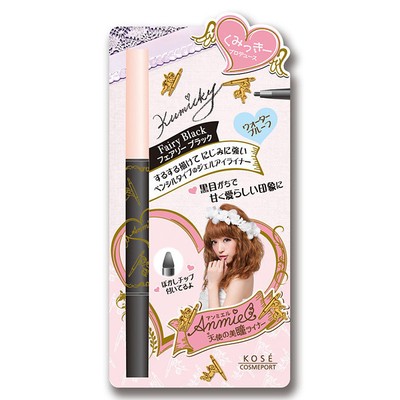 You also got this Kose Cosmeport Anmiel Pencil Eyeliner in Fairy Black, which is made with the Popteen model Kumicky. Again, I forgot to photograph it! You didn't get the packaging in the lucky pack, just the loose eyeliner.
You also got a travel sized hairspray, which is been very useful for travelling! I didn't use it in Japan though, and showed it my mum after - she asked what it was and I hadn't had a proper look at it yet so I glanced over it and said 'Oh, I think it's a deodorant' since I'd bought a similar looking one in Kyoto. I then had a proper look at it and realised it was hairspray - it's a good thing I didn't try to use it as deodorant first haha!
I really liked the contents of the lucky pack and think it was a great opportunity to try brands that are well-known and liked in Japan, yet not necessarily heard of outside of Japan. I guess the term would be 'authentic Japanese-used cosmetics' haha?
I then bought a load of stuff at regular price and got it tax-free. They seal it all in a bag (same with any tax-free food or souvenirs) and tell you you can't open it until after you've left Japan (otherwise you have to pay tax on it, which doesn't really make sense since you're still taking it out of the country even if you used some of it!) but they never checked it when I left Japan, so I could've used the products if I wanted. I didn't feel the need though, since I'd packed enough cosmetics for my trip and wanted to save these for when I went home.
Here's what was inside the bag, I bought all the items because I've heard good reviews about them:
K-Palette Real Lasting Eyeliner (there's so many variations of the product name urgh) in Super Black. I've heard so many good things about this eyeliner so I really wanted to try it, especially since they released a 'Super Black' shade! They had some limited edition versions of it so I got the Bulgarian Rose version; they also had a version with an old art style geisha on it, very traditional Japanese art imagery but I liked this version better. The eyeliner actually has Bulgarian rose water in it too.
Canmake Gokubuto Volume Curl Mascara in Black. Again, I was recommended this mascara by a friend so I grabbed it whilst in Japan.
Bison Baby Pink BB Mineral Cream in 01 Light Colour. Again, a friend recommended this BB cream.
I then got the whole Hada Labo Gokujyun Super Hyaluronic Acid skincare range, starting with the Hada Labo Gokujyun Super Hyaluronic Acid Toner! I expected the terms to be the Japanese pronunciation of the English words, for example: 'トーナー/tounaa' for toner,' シーラム/shiiramu' for serum, etc. I don't know where I got this idea from, maybe because they do the same for make-up items? Anyway, they have their own words for them so I spent ages trying to work out which product was which, scanning the product packaging into my phone and translating it. Turns out 化粧水 (keshoumizu) is 'lotion', which in this case is used for the moisture toner of this line.
Next up is Hada Labo Gokujyun Super Hyaluronic Acid Lotion! The word for this is 乳液 (nyuueki), meaning a type of milky lotion, or in Japanese cosmetics terms, simply milk.
I then couldn't find the serum and cream to go in the line, so whilst at the cash register purchasing the rest of my items, I asked if they had them. Because I didn't know the proper Japanese words for them, I did just use 'shiiramu' and 'kuriimu' and thankfully the sales clerk knew what I meant. This is the Hada Labo Gokujyun Super Hyaluronic Acid Essence. The Japanese word for 'essence' or 'serum' is 美容液 (biyoueki).
The last product in the line (unless you count the facial cleanser, which I wasn't really interested in) is Hada Labo Gokjyun Super Hyaluronic Acid Cream. Cream is just plain old クリーム (kuriimu) in Japanese, thankfully!
After Matsukiyo, I went to ACDC Rag to buy some more casual clothes! The first day I bought a lot of Lolita clothes so I needed casual clothes to wear. Because it was my first holiday, I was on my own for almost all activities and I was a little nervous, I actually only wore Lolita ONCE my entire trip. That will change next trip, however haha!
I didn't realise but ACDC Rag have like 4 or 5 different locations all in Harajuku! Generally they sell mostly the same items but some might have sold out of certain colours so it's always good to check other stores if you want more choice!
I bought this dress in ACDC Rag and it's so cute! Very casual Goth style, I love the eyelet tape straps that are adjustable and turn into cute halter straps at the back.
I then went into a store called Richards, which is underneath Closet Child. Some people who have been to Harajuku or have seen photos may remember Richards as their store has swearing all over the signs haha!
Richards store on Takeshita Dori (
source
)
The guy who runs the shop was super friendly and chatted to me in Japanese and English; I think he liked practicing English which I was happy to do! He makes most, if not all, of the stock himself, which is very impressive! He had these amazing eyeball rings and chokers which were really awesome! I left with a ring and was given a free earring as a gift.
I went back home and because it was New Year's Eve, we ate traditional New Year's Eve dinner, toshikoshi soba, which are buckwheat noodles in a hot mirin, dashi and soy sauce broth. They were really tasty! I forgot to take a photo so here is what they kind of looked like:
(
Source
)
We then watched Kouhaku Uta Gassen, which is an annual music show held on New Year's Eve every year. The most successful musicians that year are invited to perform on the show, and are split into teams of red and white - red for women/female vocals and white for men/male vocals. People vote for their favourite acts and the team with the most points win. It was absolutely lovely to partake in a traditional Japanese New Year's Eve.
The next day was of course, New Year's Day, so stay tuned for my next post about traditional New Year Day breakfast and salessssss~ Thank you for reading, I got a really positive response for my first post so I hope I can continue providing lots of info and sharing my shopping addiction haha.