I know I keep doing reviews but in all honesty, I haven't done much recently other than make stock and go to events to sell haha... This is a review of Clinique Moisture Surge Extended Thirst Relief, I got a small travel sized pot in a Bonus Time gift.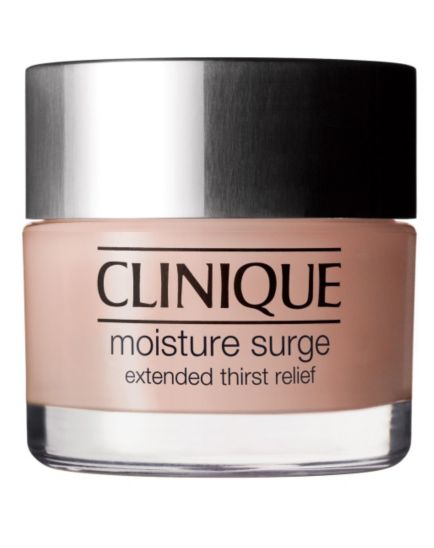 Brand:
Clinique
Name:

Moisture Surge Extended Thirst Relief
Price:
£5 for a 15ml travel size, £34 for 50ml/$38.50
Clinique Moisture Surge Extended Thirst Relief is a gel/cream formulation that gives skin extra hydration for up to 24 hours. It absorbs lightly into the skin with no sticky or greasy feel. It's oil free, so it can be used by all skin types, even sensitive or skins needing oil-free products. You can use it after Dramatically Different Moisturising Lotion, as a 'treatment moisturiser' if your skin feels dry, and can even be used over makeup if you apply by rubbing the cream on your hands and lightly pressing onto the top of your skin.
The packaging is a mini version of the full sized packaging, except the full sized packaging is made of glass and the lid is silver. I guess the packaging is slightly cuter than Clinique's normal packaging, in my eyes anyway, as it's pink haha. The jar packaging is fine by my standards, I use a spatula or cotton bud to scoop the product out so I don't use my fingers anyway. This travel sized pot was 15ml, if I remember correctly.
True to its name, Moisture Surge is not quite a gel, not quite a cream. It feels nice being spread onto the skin and absorbs easily, but I feel it absorbs a little too easily for my skin, and I'm left feeling like I need more hydration. I decided I would like to try the 'Intense' version of this cream.
The cream has a very soft and silky feel after absorbing, which many fans of this cream love. It does have a nice feel, but it doesn't really bother me if my skin feels dry still. I used this after all my regular skincare, and if I was using DDML, I'd apply this afterwards. If I wasn't using DDML (i.e. I've ran out), I would apply this after my emulsion or facial oil.
There are a couple of uses for this cream - like I mentioned above, you can apply it like a normal moisturiser, on top of makeup or you can also apply a thick layer on your face, wait 20 minutes and either wipe off with a tissue or massage the excess in. So it's essentially a cream you can use as a 'pack mask' in Korean cosmetics terms heh heh. My mum used it as a pack mask on a flight to France and she said her face felt soooooo nice afterwards.
This cream simply wasn't enough for my dry skin. I can imagine it is lovely for combination/oily skin if you are feeling dehydrated or want an extra treat for your skin. The ability to use it as a face mask is quite different and nice, but I tried the 'Intense' version of this cream and preferred that, so I wouldn't purchase this with my own money or recommend for dry skin. 3 out of 5 stars.