Today I decided to start on decreasing the amount of draft posts I have on my blog, and there was a review I forgot to post even though I did all the photos for it! So today I'll be reviewing Clinique Foaming Sonic Facial Soap.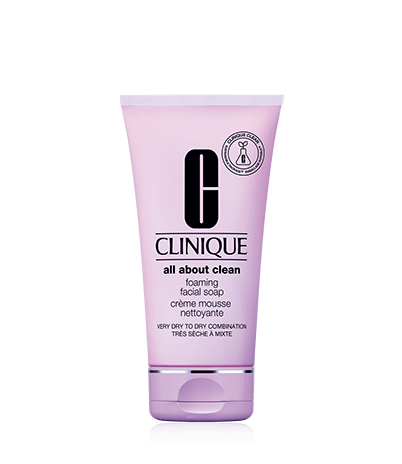 Brand:
Clinique
Name:

Foaming Sonic Facial Soap (on Boots, it's Foaming Facial Wash)
Price:
£16.50/$20
I bought this soap when it first came out, and was on a special price of £10 at Boots. It was also a discount time for employees so I actually got it for around £8.
This soap is designed to be used with the Clinique Sonic System Purifying Cleansing Brush, but of course you can use it on its own. It's a creamy, foaming facial cleanser designed for all skin types, even dry skin. You get 150ml of the facial soap, which is pretty decent. A friend who was an employee of Clinique thought it was Clinique's Rinse-off Foaming Cleanser repackaged, but after using she said it was a lot softer, creamier and fluffier/mousse like as well as gentler. I would agree, since I used a small sample of the Rinse-off Foaming Cleanser and it was a bit too drying for my skin.
Most of Clinique's skincare comes in green packaging and this is no exception. It has the large silver Clinique logo with the product name and other information in dark green lettering. The tube is soft, malleable plastic with a hard plastic snap-top lid. It has gotten to the point where I can't squeeze any more cleanser out of my tube, so I've cut it in half to get the remainder out. There is soooooo much left in the top corners and bottom of the packaging, enough left for several more months use! So don't throw away the tube as soon as you can't squeeze any more out, you monster!
Here I'll demonstrate using it on a Sonic Brush, but I've used it with just my hands as well.
Comparing the brush versus hands method - the lather is a lot creamier and fluffier when you use the brush with the cleanser. With both methods, you can change the foam type depending on how much water you use with the cleanser - for a very bubbly, light foam, use more water, and for a rich, creamy, thick lather, use less. The thick creamy lather cleanses your skin more than the thinner lather, so depending on your skin type, the thick lather may make your face feel dry after cleansing with it.
The cleanser makes my skin feel clean and soft, but a little too 'squeaky' clean for my likings. I have to put skincare on after a couple of minutes, or else it feels too drying. I haven't had any problems using the cleanser though, like dry patches or breakouts.
The cleanser is fragrance free, dermatologically developed and allergy tested like all Clinique products.
This facial cleanser is okay; it's a little
tooooo
cleansing for my dry skin, but it may be better on combination/oily skin. You can change the type of lather it makes depending on your skins needs - my face doesn't feel as squeaky clean if I make the thin bubbly lather. In all honesty, I would not have purchased this cleanser if it wasn't for the special deal, and probably even the employee discount. I certainly wouldn't pay £16.50 for it. A Korean foaming cleanser is cheaper, more gentle and probably more effective on my skin so I would rather try something else. 3 stars out of 5 for me.