It's been so long since I've done a Lolita Blog Carnival topic so I decided to kick my butt into action and get this week's done! This week's topic is 'Favourite Taobao Shops and Pieces'! A topic I am well versed in and passionate about.
HMHM
HMHM has been one of my favourite Taobao brands since I first discovered Taobao, yet I own nothing by them yet! That would've been a good entry for last week's topic, 'Favourite Brand You Own Nothing From'! Their items look so high quality and as such, their prices are a little more expensive than the cheaper Taobao Lolita brands (although still not as expensive as brand obviously!) but I am 110% sure you get what you pay for with HMHM.
I have wanted this
blouse
for a while now. It'd be so good for sneaking in gold elements into any darker outfit! It also comes in white, I'd actually love to own both colours haha!
Again, I've wanted this
velvet bolero
for a while now! The bolero comes in a multitude of colours.
This skirt is absolutely gorgeous as well! HMHM is very detail and construction orientated, rather than being print-orientated. I think that is what always pulls me to these brands, it's the same with Atelier Pierrot and Atelier Boz. There's just something about a beautifully constructed skirt or JSK that makes it timeless and better than a print in my opinion.
Surface Spell
I own a blouse from Surface Spell and it is lovely. Surface Spell are again, very high quality and detail/construction orientated.
This
dress
is just absolutely beautiful. The pattern on the bodice is embroidered and it is the perfect combination of Lolita and Dolly Kei for me. I love the medieval inspiration and tassel belt! Just to die for *0*
This
dress
reminds me very much of Antique Beast, Excentrique and general Old School Gothic Lolita vibes. It's great to see a slightly Ero-inspired Gothic Lolita dress nowadays, I love the belt!
Classical Puppets
Classical Puppets is well known for their petticoats, and indeed I have owned two
bell-shaped CP pettis
since I started getting into Lolita fashion. I knew they were some of the best quality and inexpensive petticoats around at the time so I wouldn't settle for anything less to start me out. Nowadays they have some gorgeous ranges in Lolita dresses and skirts, as well as gorgeous blouses and a lovely collection of unique
shoes
.
They do a gorgeous
bustle back petticoat
for Victorian and Steampunk inspired outfits! I think that's a very unique and lucrative idea, as they are accessible to buy from (either using a shopping service or a reseller like Qutieland) and inexpensive compared to speciality shops like period and Steampunk stores.
This
bustier
is to die for and reminds me of the street snaps of Gothic Lolita and Japanese Goth girls coming home from events like Tokyo Dark Castle and Tokyo Decadance.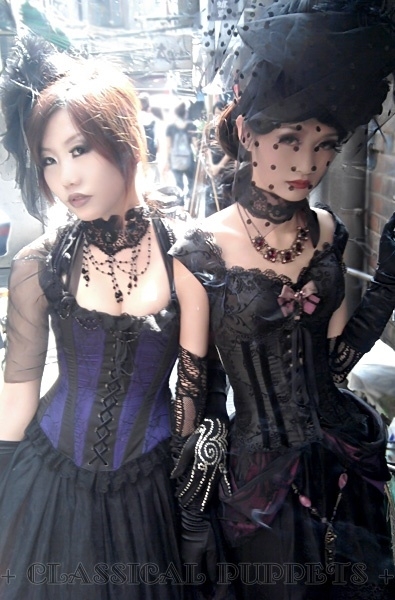 I think I'm
really
into the old school Goth vibe at the moment! It has just been awakened through this post~
This
skirt
has the old school Gothic Lolita vibe to it but it's also very Dolly Kei-style. I think a all-over brocade or damask pattern is timeless in Gothic Lolita and Dolly Kei fashion!
Mu Fish
I've bought from Mu Fish before and they have an awesome selection of printed tights, socks and general accessories and jewellery for Lolita (as well as cosplay) outfits. I don't condone their Grimoire replicas but they do have original printed tights as well, which I hope is the direction they're going in! I have a pair of their original printed tights and always get compliments on them! They've also started doing embroidered handbags for Gothic Lolita which look absolutely gorgeous (see below). I'd love to get my hands on one after my trip to Japan.
This is the gorgeous
Rose Cross bag
they have made recently. It looks really roomy, a much better alternative to all these cutely shaped yet impossibly impractical bags you see in Lolita.
They also do a matching beret, so cute! *0*
Mu Fish also do the cheapest
ball-jointed doll tights
I've seen. I have a pair and they're thick, high quality and very cute. I prefer the white BJD tights to flesh coloured ones personally, but they do sell both colours!
Cici Work
Cici Work have some of the best Lolita accessories I've seen for amazing prices. They're all handmade and whenever I've bought from them, they've sent me free gifts and in terms of the deer headdress I bought from them, they sent me extra spare sprigs of moss and glue just in case. Their items are gorgeous quality and quite unique so prepare for a spam of beautiful headwear!
This
rose corsage headband
is very beautiful. It's a classic Gothic Lolita staple! The roses Cici uses are always beautiful quality, thick, soft velvet and in an array of colours too!
This
rose veil headdress
would be beautiful for a bridal inspired or Shiro Lolita coordinate! I love the chequered ribbon Cici uses in their items!
Sweet Jesus I need this
ram horn headdress
so badly *0* I don't even know what I'd wear it with, or what theme I'd go for, or even if it'd suit me but I don't care! This is a new item since I last browsed! It also comes in white too!
It's hard to find a good
witch hat
for Lolita coordinates without it being tacky or costumey looking. This hat is absolutely gorgeous and you can pick from black, red or blue ribbon lacing.
I saw these
rose crown hair clips
around a while before I bought one - off the top of my head (derp), I saw Hello Batty wearing one. You can actually change the rose inside the crown - I thought the silver crown had broke but the top part actually pops on and off. I'm sure last time I checked you could just purchase the roses separately from Cici so you can change the rose, rather than having the crown 10 times with different roses. The crown has two hair clips on it but Cici also includes a high quality double faced satin ribbon if you like the headdress look. I own these in black and red.
This
Classic Lolita headdress
is absolutely gorgeous! The colours are so soft and muted. The lace Cici uses is very high quality. I also love the organza ribbon used! Okay, this post is sounding like it's sponsored by Cici Works haha, but I swear it's not! I just love her stuff, it's inexpensive, unique, beautifully handmade and it's always nice to support handmade artists.
So there you have my favourite Taobao brands and pieces! I haven't bought clothes or accessories from Taobao for such a long time as I'm saving for my Japan trip, but I swear once I have lots more pretty Lolita clothes from Japan, I will do a shopping spree of cute and unique accessories to take my outfits to the next level.
Lolita Blog Carnival is a group where you vote on and write about a Lolita topic once a week! Here's the other bloggers who participated this week!
Alice in Lolitaland