I have been meaning to review Clinique's 3 Step Skincare System so I will finally make a start with the first step, Clinique Liquid Facial Soap in the Extra Mild type for Very Dry to Dry skin.
Clinique was originally created by a dermatologist and all their items are 100% fragrance free, allergy tested and dermatologically developed. Every time they come out with a new formula/product, they test it on 600 applicants 12 times and if one person has a reaction just one time, they tweak the formula and try again.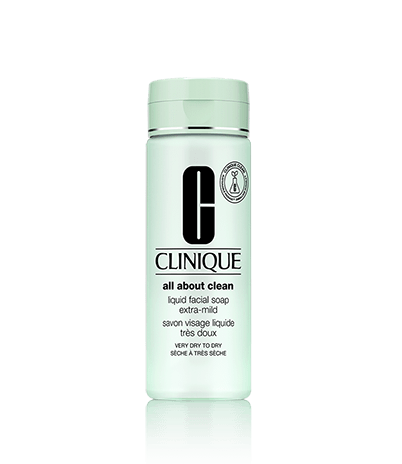 Clinique has quite a clean and clinical brand image so the packaging for this soap is very simple. I guess to a normal person it looks effective and possibly sophisticated due to the brand. For me, being spoilt with cute Korean and Japanese packaging, it is a bit boring for my tastes. XD

The standard Clinique packaging is the large metallic 'C' along with the Clinique logo and product information. The soap doesn't come in a box so all the information is on the bottle, which is good for ease and the environment.
The bottle is clear with a greenish tinge and shows the milky soap through it. It has a pump at the top which is good for hygiene reasons but sometimes I think you can't get all the product at the bottom out of it, leaving some of it wasted. You can lock the pump by turning it so it's good for travelling.
The soap is very milky and doesn't lather. I have used this soap with both my hands and a sonic cleansing brush. I feel the cleansing brush bristles actually get a bit clogged with this soap, and I can't rinse the head properly because it doesn't lather. I notice that my brush head looks dirtier after I use this soap, then if I use a foaming soap to clean the head after, it looks clean again.
I haven't really noticed much difference in the clean feel between using my hands or a sonic facial brush, and I'm pretty sure that any extra softness I get from using the brush is due to the bristles, not the soap. Even though my skin is quite dry, I don't feel like this soap cleans my skin effectively. I don't want a squeaky clean feel but this doesn't make my skin feel clean enough.
If your skin is very dry and you don't get on with normal face soaps, you could try this and see how you get on with it. However, even though my skin is dry, I don't feel it cleans effectively enough. After using this I received a sample of the Mild version so I will review that next so you can see the differences. 2 out of 5 stars for me.