Today I'll review the last step in Clinique's 3 Step Skincare System, their ultra-famous Dramatically Different Moisturising Lotion. This is a light, basic moisturiser that is suitable for very dry to dry combination skin. There is also an oil-free gel version available, Dramatically Different Moisturising Gel, for oily combination to very oily skin, or if you require oil-free skincare for any reason.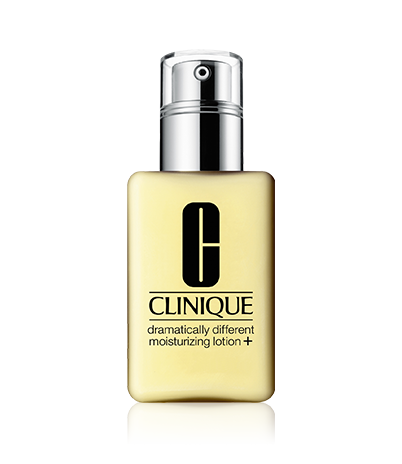 Brand:
Clinique
Name:

Dramatically Different Moisturising Lotion (DDML)
Price:
£17.50 for a 50ml tube or bottle, £29 for a 125ml bottle with a cap or £30 for a 125ml bottle with a pump.
This light moisturiser is very basic in benefits, but not ingredients. It contains purified water and sesame oil to mimic the oil and water balance of the skin. It doubles the amount of moisture your skin can hold immediately after applying and after 8 weeks of using it twice daily it strengthens the skin's moisture barrier by 54%.
All of Clinique's 3 Step Skincare System products have clear packaging so you can see the product inside the bottle. DDML comes in either 50ml or 125ml, in a squeezy tube or plastic bottle. I prefer the squeezy tube packagings because you can control the amount of product you squeeze out and once the product starts to run out, you can cut the tube open to get the rest out with a spatula or cotton bud.
The moisturiser is a light yellow in colour, light in texture and feel, and absorbs quickly, easily and with no greasy residue or film. It has no scent or sun protection, it is very basic.
Clinique recommends you use this moisturiser after cleansing with the Liquid Facial Soap and exfoliating with the Clarifying Lotion. Once your skin has been thoroughly cleansed and exfoliated, there are no dead skin cells or dirt stopping the moisturiser (or any moisturiser) from absorbing and doing its job to the fullest. You then apply any eye creams, serums or 'treatment' moisturisers, which are moisturisers with other benefits/ingredients other than basic hydration, such as anti-ageing, anti-redness, brightening, etc.
Clinique like to show a demonstration where they cleanse and exfoliate one hand with the aforementioned products, then apply DDML. Then on the next hand, they apply DDML on its own. As you rub the hand that has nothing but DDML on, they will comment on the fact it turns a bit whitish as it's being rubbed in, and feels like it's just sitting on top of your skin. They say it is because the dirt and dead skin cells have not been removed, preventing the moisturiser from absorbing properly;
however
, they also insinuate that this happens if you don't use the Liquid Facial Soap and Clarifying Lotion with DDML, because obviously you should buy the whole set for maximum effectiveness
and profit.
The same way shampoo and bottles say 'For best results, follow with [same brand] conditioner'.
However, I have used this product with the other 3 Step products, with other facial cleansers and BHA toners, and even with just a facial cleanser before, then the rest of my skincare (no BHA toner). The moisturiser still absorbs fully and doesn't feel like it's sitting on top of the skin and it doesn't usually turn white as it's been rubbed in unless I've waited a little after cleansing and exfoliating. My skin actually sucks this up very quickly, and after applying, my face feels almost matte, like I haven't applied any moisturiser. According to Clinique consultants, this is apparently a good thing because this preps your skin to better absorb the rest of your skincare products.
Just to recap the rather bulky application text above - Clinique would obviously like you to use DDML with the other 3 Step products but the moisturiser works just as effectively and absorbs like normal after using other branded facial cleansers and BHA toners. It's a fine basic moisturiser and considered a cult classic by many; I think one is sold every 7 seconds or something like that, and the factories never stop producing DDML all day and night. However, for me, it's just a basic moisturiser and I would not pay that price for a moisturiser that doesn't brighten skin, ward off ageing or contain any ingredients beneficial to my personal skin type and goal. I would rather spend the money on a proper moisturiser that both hydrates and does the above mentioned, so this product gets 3 out of 5 stars from me.