Today I will review the second step in Clinique's 3 Step Skincare System, the Clarifying Lotion in Type 1 for Very Dry to Dry skin.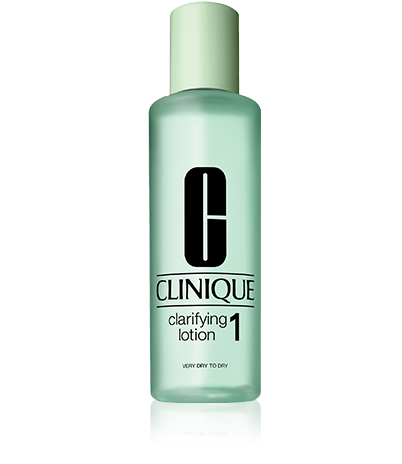 Brand:
Clinique
Name:

Clarifying Lotion Type 1 for Very Dry to Dry Skin
Price:
£16.50 for 200ml or £26 for 400ml
This Clarifying Lotion is a chemical exfoliator, except Clinique likes to use the term 'liquid exfoliator' so they don't scare off customers not used to the term. It contains salicylic acid as a BHA (beta hydroxy acid) to unclog pores and sweep away dead skin cells from the surface of your skin. Type 2 also contains witch hazel and has a slight tingling effect, and Type 3 and 4 contain menthol and witch hazel, for a really 'clean' feel. However because this type is for very dry to dry skin, they didn't put those ingredients in since they may be too harsh for dry skin. I'd also like to note at this point that my skin is used to chemical exfoliators, I use an AHA serum every night. This was my first time using a BHA, however.
Clinique has a very clinical and scientific brand image, as you can tell by the name. The Clarifying Lotion bottle is clear to show the colour of the lotion, which is different for each type (green #1 for very dry to dry skin, purple #2 for dry combination, pink #3 for oily combination and blue #4 for very oily skin.) However, the colour of the lotion isn't natural, it's added colouring. The Clinique logo and large 'C' is in metallic silver. The Clarifying Lotion doesn't come in a box so all the information is on the bottle.
I heard from a colleague when I worked on a beauty counter that if you leave the Clarifying Lotion in direct sunlight, it turns a weird yellow colour and people return them. If that's the case, they should really make the bottle dark or the opaque colour of the lotion, I don't think people are bothered about seeing the lotion through the bottle. The bottle is pretty boring but I guess it looks sophisticated if you care about brands and high end skincare.
Clinique's recommended method of application is applying this twice a day, morning and night, after cleansing with the Liquid Facial Soap. Soak a cotton ball in the lotion, and sweep the surface of the skin lightly, going in upward motions, avoiding the eye and lip area. Don't rub or go over the same area twice.
However, my way of using this is by soaking a cotton pad with the lotion. Clinique recommend cotton balls rather than pads because pads soak up and apply too much of the lotion, so it could cause a higher level of exfoliation than necessary, thus potentially causing irritation. However, I noted that my skin is used to chemical exfoliation. When I first used this lotion, I didn't find that it did much to my skin. It didn't feel much softer or more exfoliated, so I switched to using cotton pads instead and I could see improvement slightly. I also do go over some areas more than once, areas I feel need a little more chemical exfoliation like my nose and forehead. I have never had any problems with this and even though I do consider my skin dry, I still felt the Type 1 Clarifying Lotion was a bit too 'weak' for my skin. However, although I didn't notice much extra exfoliation or softness, I did notice that the amount of spots/pimples I got was reduced after using this product. I don't get many spots at all anyway, maybe one a month or less, but even that was reduced. Now I only get a spot every couple of months, and when using the Clarifying Lotion, it's gone in a day or so. I'm sure this is because the BHA unclogs the pores, so it has definitely made a difference in that aspect.
A lot of people call this 'paint stripper' possibly because of the smell (see below) and possibly because I've heard a lot of people don't like this product at all. They say it dries out their skin, ruins it, irritates it, causes breakouts etc. I have not experienced any of that. However, when I first started using an AHA serum, I did get a couple of spots in the first week or so of using. After that, they disappeared and my skin has benefited from the use of an AHA serum ever since. So I wonder if that was the so called 'purging stage', where your skin brings out all the dirt and gunk from underneath the surface and in the pores. I did not experience any purging stage using this product and can use it alongside my AHA serum with no bad effects.
This Clarifying Lotion has a very strong alcohol smell, it's quite pungent. I was a little shocked when I first used it. It contains denatured alcohol so that it evaporates on your skin quickly. If your skin is sensitive to alcohol, Clinique also make an 'Extra Mild Clarifying Lotion' that doesn't contain any alcohol.
Because my skin is used to chemical exfoliation through AHA, I didn't find see much difference in my skin when using this product. I did, however, see a reduction in my already-sparse spots so it's definitely worth me having a product with BHA in it. After I used up all of this Clarifying Lotion, I actually asked for a sample of the Type 2 to see if that made any more difference in exfoliating my skin so that will be the next Clinique 3 Step System review I will do. Then, after using that, I found a cheaper Korean alternative so I will review that. Therefore I don't think I'd recommend this product to people because I like the Korean alternative more and it's cheaper. However, it is harder to buy and you have to wait for delivery so the Clinique one is more widely available worldwide. 3 out of 5 stars for me.