*Listening to: Computer Guy by Savlonic*
Hello everyone! I'm here today with a relatively simple lipstick review. I still can't find my memory card for my DSLR camera, so I bought a new one, then when it arrived, it turns out it's for the wrong model - I searched 'Panasonic Lumic FZ20' and the memory card is for a Panasonic Lumic FZ200! So irritating! I'll order another one soon...I've got another camera but it's not as good so I'm trying to wait until I get another memory card...urghhhh...anyway, onto this review!
Brand:
Collection 2000
Name: Colour Extreme Lipstick
Shade: Delight
Price:
Discontinued but available on eBay for £1.99
Where to buy: eBay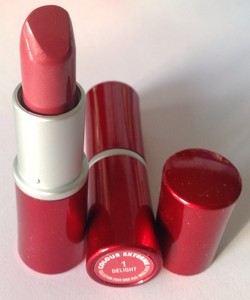 This is a photo taken from eBay, since I can't actually find my photo of the lipstick... >_>; I bought this lipstick such a long time ago...like it was probably one of the first lipsticks I bought myself as I was getting into make-up properly at the age of...about 13-14? Maybe even younger...Jesus...since then a lipstick obsession began so I'm actually only just finishing this lipstick.
Anyway, the packaging. For a drugstore lipstick, the packaging is fine. It's a metallic red tube with silver rim, then the same red metallic cap. It has the lipstick name and shade on the bottom, but no other branding on the packaging. It would look a bit more expensive than it is, except for the fact higher end brands tend to use black, silver and gold as lipstick tube colours. It's not the ugliest packaging in the world by a long shot but it doesn't wow me.
The application is relatively creamy and doesn't feather. The staying power is a couple of hours, and the colour slightly stains the lips afterwards. The lipstick isn't drying and doesn't exaggerate or cause dry flakes. The lipstick bullet broke halfway through using the lipstick so that's a bit of extra lipstick to the left. The colour is a raspberry reddish berry pink that looks universally nice.
My lips with noting on them.
The lipstick on the right half of my lips.
Full application of the lipstick.
When I bought this lipstick, I remember I wanted a berry pink. This pretty much matches the description and it was really nice to wear and matched lots of looks. It's a pretty shade without being too much.
Halfway through using this lipstick, the lipstick bullet broke so I had to be careful with application from then on. I tried to melt it with a lighter and 'glue' it back together but it never really worked...I'm just getting to the bottom of this lipstick now but part of me wants to scrape the remnants into a pot so I can continue to use it...however, I wouldn't use the pot since I'd have to use a lipbrush with it and take it with me on the go...so I'm kind of torn about getting rid of the lipstick... >_<
This lipstick has been with me since I pretty much started getting into make-up properly; it was a classic shade that always looked nice on, the wear time was perfectly reasonable and the price was great, probably around £5.99 retail. I'm tempted to buy the lipstick again from eBay since it's only £1.99 and I really like the colour, but I kind of wanted to upgrade my lipsticks in quality/brand so I'm really torn...I hate trying to find similar shades in different brands since they're always slightly off, but it's a chance to try something new...urgh, decisions, decisions! Anyway, this is definitely a lovely lipstick that I would recommend to anyone, it did a great job in every aspect for a budget-restricted 13 year old up to a slightly less budget-restricted 19 year old... 5/5 stars!