Hey everyone! Today I wanted to blog about going to see one of my favourite Japanese singers, Kyary Pamyu Pamyu! I was so lucky to be able to see her in London on her world tour and am very grateful that she did a world tour in the first place! It's so hard to get Japanese acts to venture outside of Asia and whenever they do, it's always to London and no one else knows them or wants to go! T_T All these photos are taken by my friends in surprisingly good quality and also from the travelogue of Kyary and her team themselves!


But I was so lucky in the fact my friend Emily wanted to go and two days after tickets were released to sell, they sold out! We hadn't got a chance to get our tickets yet as we didn't even know if we were going to go for definite! But then my friend had two spare tickets as she got them for her parents but they said we could go and they would go to a different show they'd be more interested in! \(*0*)/ So we paid for our tickets and got transport to London, it was definitely meant to be! We got into London a couple of hours early and went to St. Pancras and Camden on the tube. There were some jobs going in Camden, in places like Cyberdog, Darkside and a smaller shop, it's so not fair I don't live in London! XD
We started queuing up at O2 Academy Islington around 4pm and the concert was
supposed
to start at 7pm but they let us in around 7.20pm and the gig started at 8pm. We were kind of sick of waiting but when Kyary came on, I almost cried with excitement! Just the fact we waited so long and we were actually seeing her in real life was a bit much for me and we agreed it was definitely worth the wait afterwards! Isn't that always how it goes with gigs? You queue for hours and think "This sucks! I'm definitely not doing this again!" and then you're like "OMG I WILL KILL FOR THIS" during and afterwards!
Welp, Kyary herself was absolutely amazing! She really blew me away and is just as cute and perfect looking in real life! Not only did she sing (she had her own studio vocals behind her too) she also danced all the way through and never broke a sweat! I really envy her... T_T She performed all of my favourite songs as well as a couple I didn't know! I tried to sing along when I knew the lyrics but other times I just danced like a flid - especially because sometimes I'd have my arms up in the air to dance but other times it was too crowded to put them by my sides so I just danced with my arms semi up, like a T-Rex!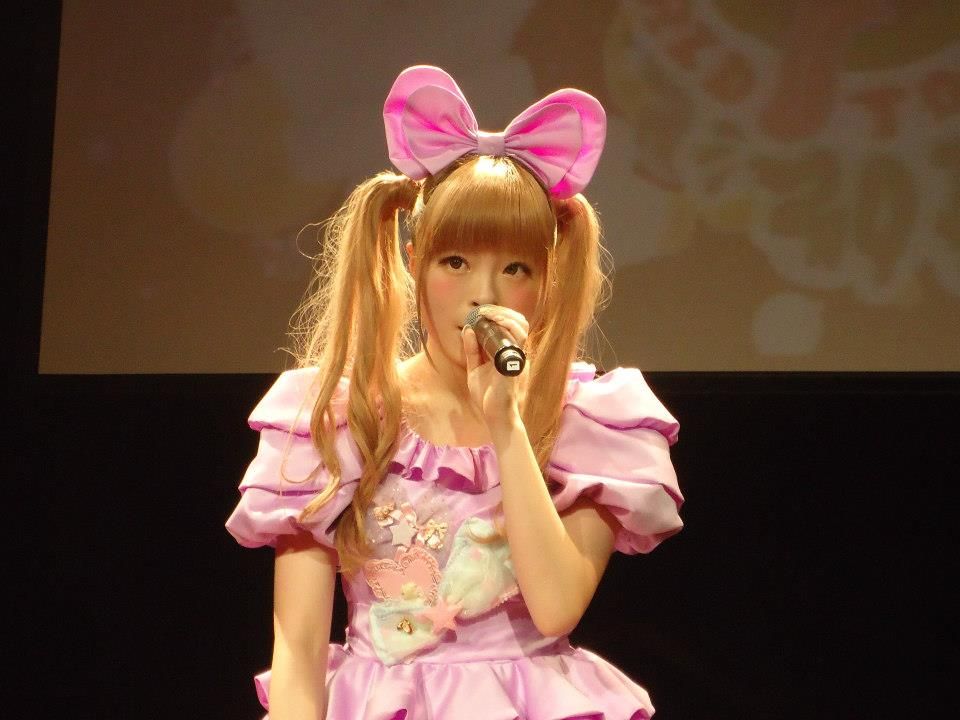 She had multiple outfit changes so they played various slideshows, one where we learned all about Kyary's history and one about her mascot/double, Pamyurin. Her pink satin dress was my favourite and made her look like a fairy princess! I tried to dance as much as possible, especially if I knew the dance moves (kind of). I think my favourite songs were Pon Pon Pon, just because it's where it all started, Fashion Monster, Furisodation and Tsukema Tsukeru. She performed Tsukema Tsukeru as an encore and had changed into a t-shirt you could buy at the merch stand - at first I wasn't a fan of it, seeing it hung up but then it looked really adorable on her so I bought it afterwards! She also took a picture with all of us but I'm behind some fat guy's head... >_<;
After the gig me and Emily decided we did actually want some merch so I almost lost a limb fighting to the front. Emily was awesome though, both in the pit and at the merch stand as whenever there was an available space, or even a tiny bit of room, she catapulted me into it! I got a t-shirt and some stickers which I'm planning to make Kyary themed deco items with! I've already saved one for me but it's a great keepsake if you went to the gig or a consolation if you didn't! The t-shirt is a little big even though it's a small so I may take it in at a later date.
All in all it was a mind blowing experience and I just had an absolutely amazing time! Kyary sold out the O2 Academy, with 800 tickets so I hope she'll come back to the UK again at some point! I also hope they'll release a DVD of her gig in London, either on its own or with a special CD - I wouldn't skip a beat in buying it! Okay, well...want some more pictures of Kyary? Of course you do! ^_~