Hello again everyone! How are you all doing? It only just occurred to me how many followers I have now - to say I started out with nothing and began a steady climb, I'm honoured! >_<; I know some blogs have like, 2000 followers but I'm happy with anything...sometimes I wonder how they do it though! But we all start from somewhere and the Lolita Blog Carnival has really helped me get great writing material and get noticed - my LBC posts are some of my most viewed so thank you again! Anyway, this week's topic for LBC is Tips for Adding Offbrand into Lolita! More specifically, your Lolita wardrobe! Because Lolita is a little difficult to get into if you don't have the funds to buy a full outfit of even Bodyline, which can be upwards of £100, most girls at some point of their Lolita lives find an offbrand gem which can easily fit into their wardrobe, and even build their starter or complete wardrobe from it!
So what are we looking for, or not looking for in offbrand pieces? Well, the one thing that almost certainly makes or breaks offbrand pieces is the silhouette. It has to fit into the Lolita aesthetic and whether you have to tailor or alter it to fit, that's fine with me! Blouses are the most common form of shirt in Lolita so look for clean, crisp lines and maybe even cute details such as a ruffle at the hem, a bow tie, lace, pintucks or ribbons on it. A well-fitted, plain school blouse can be a great starting point for a gorgeous Lolita blouse with some work!
Two great tutorials on turning plain blouses into lovely, frilly Lolita ones!
Tutorial 1 - Tutorial 2
As I mentioned in my last post, chiffon blouses are quite easy to find in mainstream fashion and look lovely in Lolita so look out for them in places like Forever21, Marks & Spences, Debenhams, H&M, New Look, River Island and pretty much any high street store as long as chiffon blouses are "in season" - even Primark are doing them right now!
You can also get super cute cardigans that easily coordinate with Lolita - my friend had a black one with a white scallop design on the edges and I asked where she got it from and she said Asda!
Here is an awesome tutorial on altering store-bought cardigan to make cute sailor style ones too!
Tutorial
Dresses are a little harder to find offbrand but it's not impossible! There was one Primark did a while back that had a beige and black floral print on it, a shirred bodice, straps and a gathered skirt. You put a petticoat and blouse under it and bam! It made a gorgeous classic style JSK. Girls even paid other girls to buy it for them from their local Primark!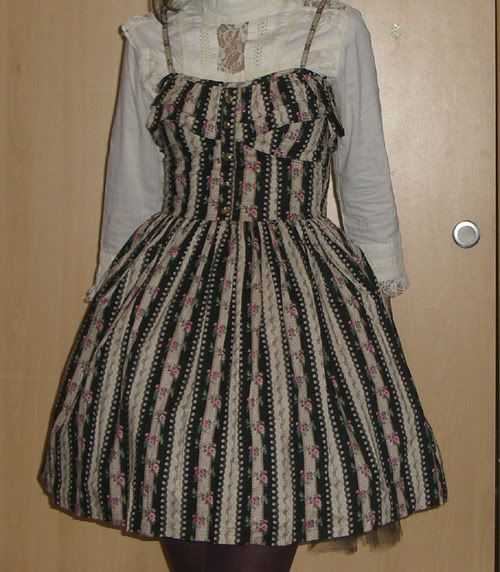 Isn't it gorgeous?! I wish I could have bought it now, looking back...anyway, what you are looking for in offbrand JSKs are a modest bodice with straps, shirring or a zip at the back, whatever your preference is and a skirt gathered enough to fit a petticoat underneath. Strapped dresses look nicer than strapless ones over blouses but AP have released some bustier styles ones that still look gorgeous so if you think it will look fine, go for it! No one ever found something new by following the rules and trends!
Tights and socks are a lot easier to find offbrand and almost all coordinates use them, unless they're brand Lolita socks or highly ornate tights from Juliette et Justine, Grimoire or somewhere similar. Knee high socks and over-the-knee socks are easy to find in market stalls selling underwear, Primark, almost any high street store. You can mostly find them in plain colours like black, white and sometimes pink but occasionally they do patterns - you're looking for simple, cute patterns like bows or flowers that will easily go with dresses. Something specific or detailed will be harder to coordinate, which is why brands release socks specially made to match with certain dresses. Almost any tights are fine - plain, patterned, bows, dots, hearts, etc. Other than fishnets I think any tights match, and you can even use fishnets for punkier coordinates!
Skirts; again, you're looking for a gathered skirt large enough to accommodate a petticoat underneath. I found a cute black one that has ties all over it to gather it at an unbranded store selling end-of-line warehouse clothes!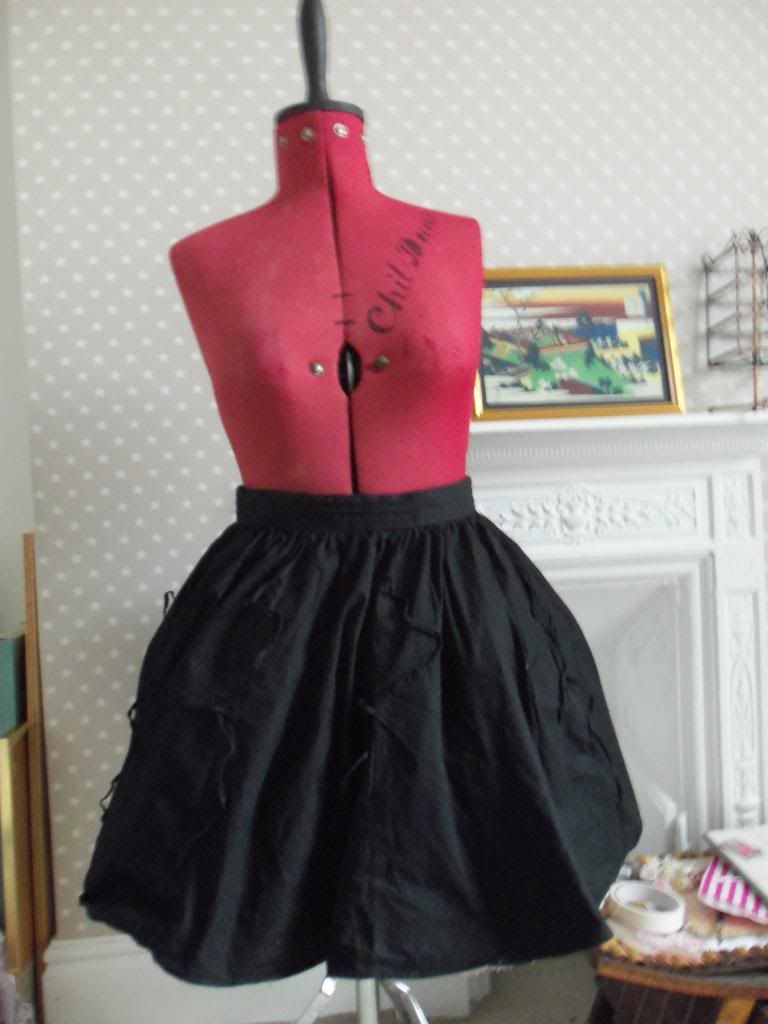 Shoes are another thankfully easy item to coordinate into Lolita wardrobes. Most of the time you can find mary jane style shoes with chunky heels in high street stores but you may have better luck in catalogues! I got these pink suede bow heels from Littlewoods and my friend got a pair of black chunky mary janes for office style looks that would be awesome in Lolita!
These Sofft shoes are absolutely gorgeous for Classic styles and even Sweet Gyaru! They're just $55 from
this website
!
T.U.K is also an alternative shoe brand based in the UK that have plenty of cute and unusual shoe designs great for Lolita. Check out other alternative brands too for good shoes, like Irregular Choice, Demonia and Iron Fist. T.U.K used to have nicer choice, in my opinion, and they were cheaper too but you can find older designs and cheaper prices on eBay if you search and check back periodically.
Baby Doll Heeled Boots - £75
Baby Doll Buckle-up Boots - £67
Ghilli Tie Platform Mary Janes
- £27.50 (I have these)
Sky Hi Winner Mary Janes
- £21, both on sale
Lolita style jewellery and accessories are very easy to find too! Just check any cute accessories place like Claire's, Accessorize, New Look and H&M; they usually have sales every so often too. Even children's jewellery can be used as long as it's relatively good quality and looks right - also check cheaper market stalls for hidden gems! There's a Chinese stall in Derby and she sells the cutest hair clips, headbands and all sorts of cheap accessories in a cute aesthetic, like plastic rings, small quilted Hello Kitty bags, etc.
Welp, I think that just about covers everything, or the basics of a Lolita outfit and tips for finding great, cheap offbrand treasures. If there's anything I missed out or you'd like me to add, simply drop me a comment below! I had loads of fun writing and researching this and I hope it helps some of you struggling with the expenses and item finding of Lolita fashion! Lolita Blog Carnival is all about voting on a Lolita topic each week and writing about the winning one - check the below blogs out for more takes on offbrand treasure hunting!
Masquerade Doll
Lace A La Mode
Derpland
Art Du Noir
EGL Community
I'm a Princess
Ramble Rori
Jessie Dress-up