Hi everyone! Yay, it's Lolita Blog Carnival time again! I try to do as many of these as possible without doing too many (so all my posts would pretty much be LBC) and sometimes I'm just so exhausted to attempt them! But this is a really cute and original idea for a Lolita post!
So, I'm not really sure what this entails but I take it you just think of what a Lolita cafe would be like if you ran it?! Well, okay then! Even though I dress quite dark, my cafe would be very cute and bright. Not like neon bright, just light and open spaces! You can go with themes with Lolita cafes but these only appeal to girls into that niche so I won't go with an animal theme (plus some girls may not want fur on their dresses!) and I won't go for an uber Gothic, Classic or Sweet themed cafe! Wow, now I'm really thinking like a business woman, huh? Target markets and the such...
My cafe would have a vintage, classic theme to it but the colour scheme would lean towards pinks and creams. I know that's my favourite colour scheme though, so maybe blues and creams? Actually, this is gorgeous and what I'd like mine to look like!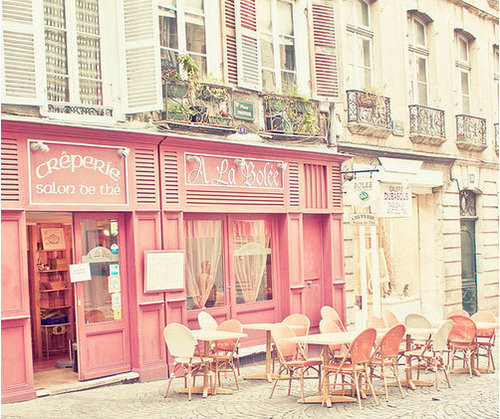 I love the cute straw chairs outside so that you can relax and chat when the weather is nice. I'd love a garden in the back so that larger parties could have a picnic round the back too!
I'd sell a selection of cakes, pastries, ice creams and drinks such as tea, sparkling soft drinks like elderflower and blackberry, iced teas and coffees and a "blend your own" concept of teas too! So you could mix a variety of tea leaves in a strainer and infuse your very own blend of tea! You could also take a small bag of it home for yourself and could restock whenever you run out! So you could have a tea which is 50% green tea, 30% jasmine and 20% rose for a delicately flavoured green tea, or a caramel milk tea with a hint of hazelnut!
Food items would include cakes and pastries, as mentioned before but would also include finger sandwiches, normal sized sandwiches (like cheese and cucumber, avocado and prawn and smoked salmon and cream cheese!) and scones and conserve for lighter snacks. If you fancied something a bit more, there'd be paninis, hot desserts like treacle sponge and apple crumble, small, pretty versions of roast chicken dinners and soups.
On weekends, there'd be all you can eat & drink tea and cake buffets! You would order the tea and cakes from a menu at your table and they would be brought to you fresh - there'd be no going up again and again like normal, fill your face buffets. These would be great for larger meets and events and would spread the cost of a large...well, spread!
Okay, let's talk interior! I think there'd be an element of vintage, shabby chic to it and it would be a large, open space with lots of white and cream, and hints of pinks, like this:
Comfy sofas with lots of throw pillows, lace and ruffles as well as wooden tables, straw chairs and white, lacy lampshades. There would be menus on the table that look like small notebooks or diaries, and larger menus would be chalkboards, with things like the soups and cakes of the day wrote on them in white chalk.
I would try to keep the costs reasonable too - I know sometimes you see these lovely tearooms and cafes yet they charge very high prices because they think they can. A cup of regular tea would be something like £1, speciality teas £2.20 and the blend your own £2.50. To take a small bag of your own specially blended tea home would be something like £6.50. Cakes would be £1.70 a slice, finger sandwiches £7.50 for a small selection for 2-3 people and normal sandwiches around £2 each. All you can eat cake & tea buffets would be like, £15 a head for any teas and cakes/pastries available!
I think that pretty much covers everything and it sure was fun just thinking about how you'd do things if this really were true! I can't wait to see everyone else's take on it! Lolita Blog Carnival is a group of Lolita bloggers who vote and write about a Lolita topic each week. See who participated this week below!