I was going to do another Fashion Round-Up about Lolita but Lolita fashion is rather a large topic...you have to split it into all the separate styles you like and would wear in real life, then go from there. I got the basic Gothic, Punk and Bittersweet (just sweet prints in black/dark colours) but I thought I'd take a look at the kind of dresses that are on my wishlist. I have a rather large wishlist of dresses I love but this is partly so I can pick and choose a dress that suits my budget when it eventually comes to buying brand. I will definitely buy brand in the near future but I just can't see the point of dropping £300 on a dress...£200, yes, especially if it is very good condition or a rare print but you can easily find dresses just over £100 second hand and on auction sites.
Anyway, let's take a looksie!
Angelic Pretty - Merry Making Party in black
I have absolutely adored this dress ever since I saw this photo of, to me, the epitome of bittersweet Lolita.
I want to look like her in every way! I think the AP Engineer boots are sooo cute too!
Angelic Pretty - Fantastic Dolly in red or pink
I really, really love this dress too and wouldn't mind it in red, pink or maybe even purple/lavender - they would all equally look great with black! I would definitely wear them with a black blouse, black tights, coloured shoes to match the dress colour and the matching hair bow. I think it'd look so cute but I wonder if it'd feel too bright for me? I'd love to try it on before purchasing but chances of that happening are slim.
Alice & the Pirates - Masquerade Theatre Print JSK in navy or black
This is wonderfully opulent and elegant - I did like it in red/bordeaux too but I'm not fond of the white ruffles/detailing on the bodice that contrasts a bit too starkly for me. I think I'd prefer this in navy so I have a bit more colour in my wardrobe.
Baby, The Stars Shine Bright - Baby Cafe Print Doll JSK in black & pink (Framboise milk?)
This is amazingly detailed and luxurious and I don't think it'd be too bright for me either. I love all the ruffles, bows and the combination of stripes and spots. There is a girl selling it for approximately £200 at the moment and I'd love to buy it but I can't afford it right now - maybe in a month or so, so I hope she still has it!
Innocent World - British Bear JSK
I fell in love with this the moment I laid eyes on the skirt in Vol. 5 of the English Gothic & Lolita Bible. I really love this enough to want it and would wear it with a black or white blouse - I think I'm okay with red as far as dark colours go. It's just so classy and beautiful, I love the tartan pattern!
Angelic Pretty - Glitter Playing Cards JSK in grey
This is a wonderfully classy piece from Angelic Pretty that has such a pretty print - I love card suit motifs!
Angelic Pretty - Macaron Tartan Rider in pink
This is amazingly cute and punky - I love the vest style bodice but it looks like this is so hard to find! >_< Maybe I could make a similar piece myself by attaching a vest/waistcoat pattern bodice to a gathered, asymmetrical skirt with black tulle ruffles peeking out on one side - cute!
Alice & the Pirates - Alice's Never Voyage Skirt in black/blue
I really love the punky, asymmetrical look of this skirt too and am more fond of it than the dress with the long sleeves and apron. I adore the print and think it'd look amazing with more casual coords too!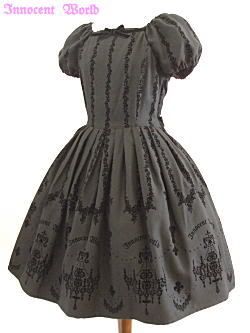 Innocent World - Chandelier OP in grey
This is another dress I spotted in my first ever issue of Gothic & Lolita Bible and is just sooo gorgeous and classic! It's made from thicker fabric too so is awesome when it turns a bit chillier and could even be worn to more mainstream occasions such as Christmas parties, cocktail gatherings and other social events.
Baby, The Stars Shine Bright - Alice Bambi Print JSK in black
This is an amazingly beautiful piece by Baby and who doesn't love a good Alice print? I love the traditional woodblock images of Alice in Wonderland and the gorgeous chiffon fabric makes it look so floaty and light.
I think I will definitely do more of these posts as I love window shopping for dresses until I can actually buy them! And everyone loves drooling over pretty dresses. Do you have a dress that you would give your right arm to have, my lovely readers? I'd love to see photos!