Hey guys! I thought I'd do something a little different today and show you the top 10 album art I personally think rocks. When you're listening to music on your iPod, you never really take into account the album art unless it's the first time you upload it onto the info. You can literally associate it with an artist the second you see it - it takes only a second to decide to play or skip it depending on your mood. But a lot of a time and effort is taken to make effective and sometimes beautiful album art to convey the feeling of the album or concept the band is going through at the moment. So, in no particular order, I've compiled a short list of my 10 favourite album covers!
Mellon Collie and the Infinite Sadness by The Smashing Pumpkins
Mellon Collie has some amazing songs like 1979 and Zero but I really love the artwork! It's pretty abstract but not in the weird photography way that a lot of modern bands do their album art. It looks like it was painted in the 1800s. I love the space background and the girl coming out of the star but my favourite part is her melancholic expression, it looks so exasperated forlorn, it's beautiful!
Han Shinnihon Shugi by ALI PROJECT
I love ALI PROJECT and I especially love the frontwoman, Arika Takarano. She has amazing style (at the moment she's Gyaru!) and is usually dressed up in a different style or amazingly extravagant costume for each of their albums but I love this punky Oiran style on Han Shinnihon Shugi. She also wears a similar style on her album cover for Dilettante. It's like classy concubine complete with tattoos, katana and platform geta. So classy and slutty, I love it! *__*
Rule by Anna Tsuchiya
I haven't got many songs by Anna Tsuchiya but there are some pretty good ballads on Rule, like Believe in Love and Blue Moon. This album cover is really pretty as Anna has a unique, quirky look as she isn't 100% Japanese and I love the contrast of the floaty bra and skirt combo with the derelic building. It's a style I'd love to do for a photoshoot one day!
Super Taranta! by Gogol Bordello
If you're looking for crazy, catchy gypsy punk music complete with accordions, violins and two Asian girls (although Pamela Racine has left D:) then Gogol Bordello is pretty much the only band to encompass all those elements. Super Taranta! is a really catch album and I love their super funky and bright album cover. Gypsy Punks is cool with its bright yellow cover but this has more going on and the two Puffy AmiYumi-style Asian girls, Elizabeth and Pamela on!
Shoujo Jikake no Libretto ~Lolitawork Libretto~ by Kanon Wakeshima

Kanon Wakeshima has very pretty album covers but my favourite one is from Shoujo Jikake. She hasn't released any more solo albums after this but has collaborated with Kanon from An Cafe to form KanonxKanon, which I think is awesome! But anyway, I digress. I love Kanon's cello and elegant Lolita imagery with the mirror and different outfits.
Pamyu Pamyu Revolution by Kyary Pamyu Pamyu

Kyary is known for her outlandish album covers and I really like Moshimoshi Harajuku but this just epitomises Kyary's style at the moment! It's really bright and funky; cute with a dash of weirdness and akwardness. I would quite like to be able to buy this album but from £30 and upwards, it's a bit expensive. =/
Play by Namie Amuro

I really like Namie Amuro's album art for BEST FICTION but I love this one for the dominatrix style mixing with her cute, cheeky face! I love the different styles she has on her album but I like this one for Hide & Seek and Full Moon.
Sister Kinderhook by Rasputina
Rasputina are an amazingly kooky band filled with cellos, melancholy Victorian sounds and dusty imagery. This is my favourite album art as I love the handmade look of it. I could have done something like this for Textiles at college! Rasputina always have a dusty weirdness to them and I love this romantic imagery in embroidery.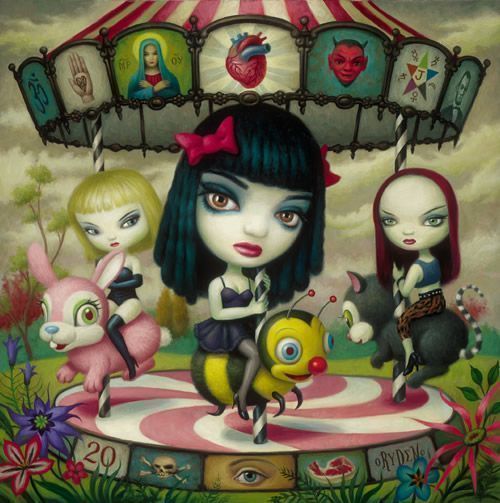 Clear Hearts, Grey Flowers by Jack Off Jill
Jack Off Jill were one of the first, more outlandish alternative bands I discovered when I was 13-14 and I still love them! The frontwoman, Jessicka, is still a big fashion icon for me even though she's gone a bit normal now. :( I also love a surrealism artist called Mark Ryden and when I was researching him for GCSE Art, I never realised he did Clear Hearts, Grey Flowers album art! I can tell looking at it now but I love it as it's very macabre and I love all the different images on the carousel. It's also cool seeing the members of JOJ in Mark Ryden style!
Far by Regina Spektor
I really like this album art as I love the painted, floaty style of art and the clouds reflected (or is that just the design?) of the piano. It speaks a lot more when you listen to the song "Blue Lips", which is a very sweet song stating that blue is the most human colour and "blue, the colour of the planet from far, far away". I like the open windows and the possibility of what could come through them, or the daydreaming to be had. Regina also looks very content playing the piano, something I'm sure is true in real life too.
So, there you have it! My top 10 album art - what album art do you like and why? ^_~
I'm having a beauty-themed giveaway at the moment to win a ton of items including hair, body lotion and tons of make-up so why don't you head on over and enter? What have you got to lose? ^_~